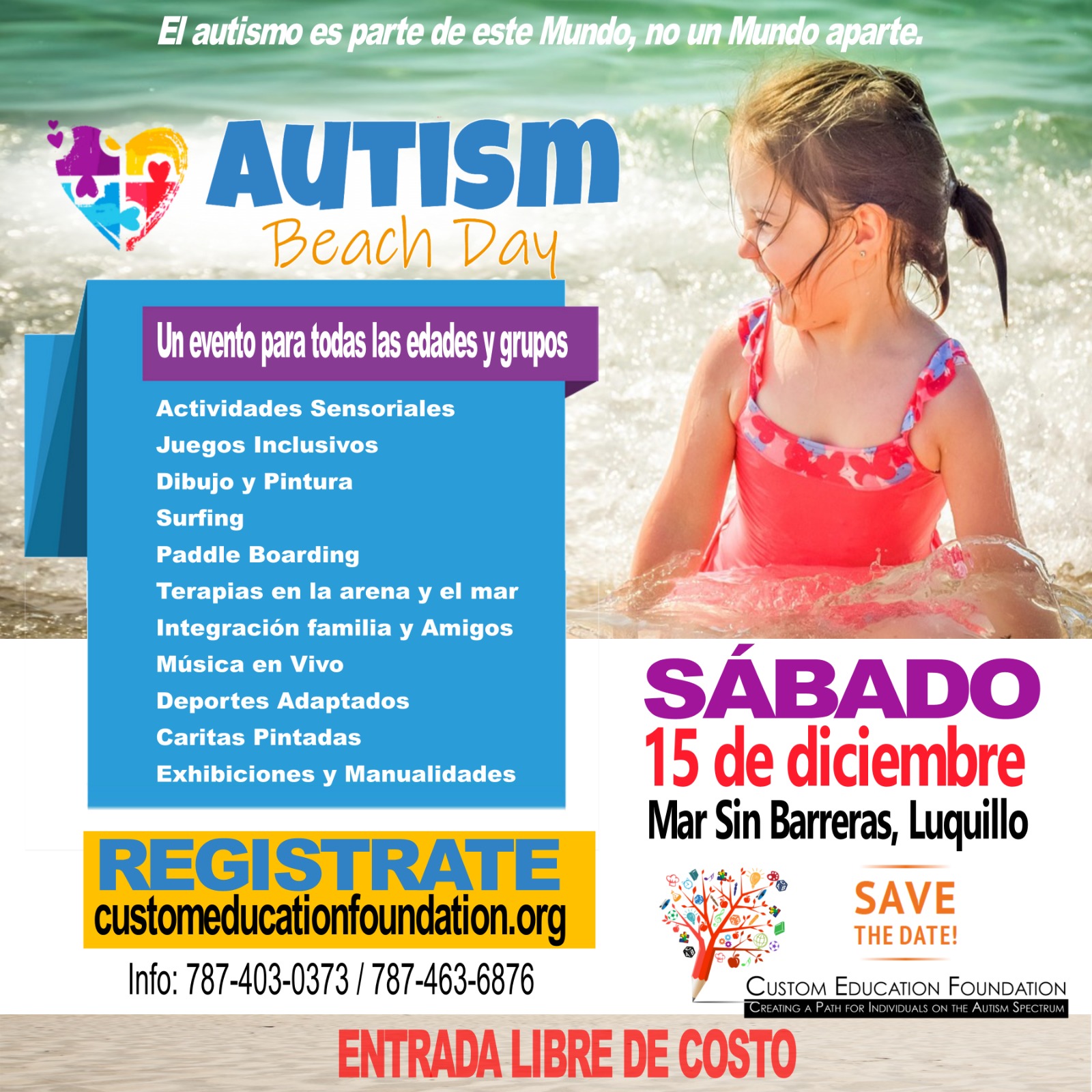 Autism Beach Day
Presented by Custom Education Foundation and Gersh Academy
---
Don't miss the first annual Autism Beach Day!
About the Event
Custom Education Foundation is proud to host Puerto Rico's first Autism Beach Day, a multi-sensory event tailored exclusively to the island's autistic population. The event will take place in Luquillo's beautiful "balneario" beach known as "Mar Sin Barreras" (sea without barriers). This area has been designated as the only handicap friendly beach in the island, providing the necessary conditions and access for people with disabilities. On this day, Luquillo beach will be transformed into a sensory-friendly environment where individuals on the autism spectrum, their educators, friends, and families can enjoy a fun, educational day together free of stress or worry. The event, which is expected to bring in 500 participants, will take place on December 15, 2018 commencing at 10:00 am and running until 4:00PM.
What to Expect
Our goal is to create a space for people with autism and their families to socialize and enjoy music, gifts, food, and a day at the beach with the supervision of lifeguards and trained personnel that will assist and create a worry-free environment for families. In addition, we will have several adapted sports stations which will include soccer, Taekwondo, Basketball, and Volleyball among others. We will also have paddle boarding, surfing, Zumba for Kids, dance, art activities, yoga cooperative/team activities, sensory activities, and a small petting zoo of friendly animals for the enjoyment of all.
December 15th, 2018
Luquillo Beach Balneario Monserrate
Luquillo, Puerto Rico
787-463-6876
---
Information: eventspr@customedfoundation.org | Sponsorships: gerardo@customedfoundation.org | Donations: jen@customedfoundation.org
Sensory Stations
Decompression tents, sensory-friendly activities and sports, and accommodations for individuals with sensory processing difficulties.
Adapted Sports Stations
Soccer, basketball, volleyball, paddle boarding, surfing, yoga, cooperative activities and more adapted for the population.
Live Musical Performances
Sit back and enjoy the show! Great local acts from all over the island come to play live.
Live DJ
Dance the day away with live DJ performances throughout the event!
Food and Beverages
Good for the stomach and the soul! Enjoy fresh cooked food and beverages throughout the event.
Toy Drive
Helping families and children in need. Donate toys to help put a smile on the face of children all over Puerto Rico.
Trained Staff
Gersh Academy and Therapy Solutions' trained personnel will be available on site to support attendees and ensure a safe, comfortable experience for all.
Sponsors and Friends
Sponsors/Exhibitors will be offering useful information and resources for parents or guardians to apply with their child.